March 15-17
Sebring International Raceway
Block Kicks Off Big Saturday with First Pro Victory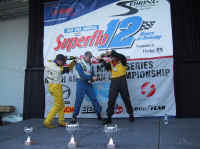 The Star Mazda Series returned to this historic Central Florida road course as a support race for the 49th Annual Exxon Superflo 12 Hours at Sebring. For the thousands of enthusiastic infield spectators who'd worked hard Friday night upholding
the legendary Sebring good-time traditions, getting up early for the 8:05 a.m. start of the 62.9-mile Star Mazda race was well worth the effort.

The 35-car field raced green to checker, with only local yellows
for various on-course incidents. At the front of the pack, however, Chad Block led all but the opening lap en route to victory. "This really feels great," said the 22-year-old Valley Motor Center driver. "I think key today was definitely tire management because mine just kept getting better as the race went on and the sun came out." Block, in his second season of Star Mazda competition, actually won the opening round of the West Division championship at Phoenix Int'l Raceway in January, but the victory at Sebring was the first time he stood atop the pro Star Mazda podium.

Once out front, Block ran a relatively conservative race, concentrating on consistency, but it was points leader Scott Bradley who jumped into the early lead and then tried to keep the pressure on Block to the checker. Bradley, who lined up alongside polesitter David Sterenberg, led the pack into Turn One when Sterenberg missed an upshift at the green. Block went left around Sterenberg, beating fourth-fast qualifier Matt Beardsley into the turn to follow Bradley. Recovered from his slow start, Sterenberg stayed to the inside at Turn One with Beardsley on the outside, but the pair made contact and Sterenberg got turned around and fell back to 20th before he could safely (thanks to lots of heads-up racing by everyone) rejoin the fray. "Yeah, I missed a shift, but I thought I gave Matt enough
room into that first turn," Sterenberg said. "It got tight, but I thought we were OK." Sterenberg charged hard through the field, working his way back up to seventh by the finish.

Up front, Bradley led Block, Beardsley, rookies Oliver Rowen and Guy Cosmo, with Masters driver Doug Peterson in sixth. The remaining top 10 after the first lap included Pierre Ehret, Marc Cota-Robles, Chris McMurry and Robert Noell. Missing from the usual front-running group was Scott
Jenkins, who was relegated from his initial pole position to start from the back after a post-qualifying technical inspection revealed a carburetor infraction. After one lap, the 18-year-old Team Bucknum Racing driver was up to 23rd, then 15th by lap three and seventh by lap nine. Unfortunately, his spirited drive ended here after he made contact with Peterson. Both drivers were sidelined and done for the day.

The only pass for the lead came on the second lap when Block drafted Bradley down the long back straight and made the pass in Sunset Bend. Beardsley also tried to race by Bradley, but spun on the exit of Sunset Bend, falling back to eighth. Also on the move was Cosmo, who got by Rowen for third on the second lap when the transmission in the Valley Motor Center driver's car lost fifth gear. Rowen eventually pulled off course two laps later with the gearbox completely locked up.

As Block worked to increase his lead, which was nearly three seconds by lap eight, the battle up front was for second between Bradley and Cosmo. At about the halfway point, Cosmo was closing fast, but backed off unexpectedly and then spun on lap 12 in Sunset Bend. "Believe it or not, the frame on my glasses broke and they weren't straight," Cosmo said. "With them sideways on my eyes, everything was distorted." After the race, the 23-year-old Long Island-based driver, who spent 10 months in Denmark last year as the Mygale works development driver in the Scandinavian Formula 2000 series, admitted he spent the money he had earmarked for corrective eye surgery on a pro Formula Atlantic test. "I had these glasses welded so they wouldn't break. I guess I'll have to try something else."

Now some 10 seconds behind Bradley, Cosmo concentrated on defending his podium finish from Cota-Robles, teammate Michael Stephens, Beardsley, Sterenberg, Ehret, McMurry and Ed Zabinski. Bradley, meanwhile, tried to close in on Block, but simply ran out of laps. "Chad was just a lot better
than I was on cold tires at the start of the race," the World Speed team driver said. "I was really trying at the end, but I couldn't catch him"

Block agreed with Bradley's assessment of the tire situation. "My car was outstanding on cold tires, thanks to Mike Williams (Block's Valley Motor Center crew chief)," Block said. "I wanted to get the start and I expected to follow Dave (Sterenberg), but luckily I had already pulled out when Dave missed his shift."

The Speedvision telecast of the Sebring race, featuring commentators Greg Creamer, Johnny O'Connell, Andrew Marriott and pit reporter Calvin Fish, will be shown Monday, May 7 @ 8:30 p.m. & 12:30 a.m. on May 8, Eastern time. Please check your local listings to confirm the dates, airtimes and any repeat broadcasts.

For more information about the Star Mazda Series North American Championship, please log on to the Star Mazda Series website at www.starmazda.com or contact series administrator Gary Rodrigues at (818) 909-5319. --Jane Anderson


TIME OF RACE: 37m47.202s
MARGIN OF VICTORY: 1.894sec
RACE AVERAGE SPEED: 99.876mph
FASTEST RACE LAP: Bradley, 2:12.115 (100.821mph)
LAP LEADERS: Bradley 1; Block 2-17


| | | | | | | |
| --- | --- | --- | --- | --- | --- | --- |
| Event: | | Sebring 2001 | | | | |
| Run: | | Saturday Race | | | | |
| Date: | | 3/17/2001 | | | | |
| Time: | | 8:05:00 AM | | | | |
| | | | | | | |
| Pos. | No. | Name | Laps | Diff. Time | Best Lap | Home Town |
| 1 | 32 | Chad Block | 17 | 37:50.887 | 02:12.229 | York, Pa. |
| 2 | 14 | Scott Bradley | 17 | 00:01.896 | 02:12.118 | Redwood City, CA |
| 3 | 82 | Guy Cosmo | 17 | 00:12.286 | 02:12.509 | Bohemia, N.Y. |
| 4 | 29 | Marc Cota-Robles | 17 | 00:14.069 | 02:12.667 | Santa Ana, CA |
| 5 | 80 | Michael Stephens | 17 | 00:16.847 | 02:12.274 | Sarasota, Fla. |
| 6 | 55 | Matt Beardsley | 17 | 00:18.997 | 02:12.545 | Breckenridge, CO |
| 7 | 22 | David Sterenberg | 17 | 00:26.280 | 02:12.782 | Phoenix, Ariz. |
| 8 | 28 | Pierre Ehret | 17 | 00:32.073 | 02:13.267 | Santa Rosa, Calif. |
| 9 | 10 | Chris McMurry | 17 | 00:41.130 | 02:13.835 | Phoenix, Ariz. |
| 10 | 97 | Ed Zabinski | 17 | 00:48.276 | 02:13.636 | Monterey, Calif. |
| 11 | 70 | Tim Jennings | 17 | 00:48.747 | 02:13.635 | Downers Grove, IL |
| 12 | 67 | Marc DeVellis | 17 | 01:00.483 | 02:14.444 | Burnaby, B.C. |
| 13 | 96 | Clint Field | 17 | 01:03.865 | 02:14.454 | Dublin, Ohio |
| 14 | 65 | Rob Walker | 17 | 01:05.343 | 02:14.607 | Portland, Ore. |
| 15 | 98 | Ken Denault | 17 | 01:05.791 | 02:14.426 | Cedar Falls, Iowa |
| 16 | 33 | Dick Downs | 17 | 01:06.238 | 02:14.186 | St. James, Minn. |
| 17 | 77 | Scott Kusy | 17 | 01:12.828 | 02:15.385 | Scottsdale, Ariz. |
| 18 | 43 | Glenn Cooper | 17 | 01:13.024 | 02:14.896 | |
| 19 | 53 | Bruce Lawrence | 17 | 01:17.495 | 02:14.860 | Anchorage, Alaska |
| 20 | 23 | Tom Nastasi | 17 | 01:28.919 | 02:14.451 | Stamford, Conn. |
| 21 | 69 | Aaron Ogus | 17 | 01:53.884 | 02:16.299 | Toronto, Ont. |
| 22 | 59 | Bryan Willman | 17 | 01:56.070 | 02:17.140 | Kirkland, Wash. |
| 23 | 72 | Ginni Swanton | 17 | 01:56.928 | 02:17.586 | Kirkland, Wash. |
| 24 | 88 | Dan Weyland | 17 | 02:07.446 | 02:14.613 | Denver, Colo. |
| 25 | 17 | Rick Waddell | 17 | 02:08.802 | 02:15.677 | Edmonds, Wash. |
| 26 | 86 | Tom Beattie | 17 | 03:37.378 | 02:15.500 | Longwood, Fla. |
| 27 | 16 | Frank McCormick | 16 | | 02:18.872 | San Francisco, Calif. |
| 28 | 49 | Keith Field | 16 | 00:24.376 | 02:20.844 | Mt. Dora, FL |
| 29 | 31 | Scott Jenkins | 16 | 02:05.762 | 02:12.762 | Portland, Ore. |
| 30 | 56 | Dan Tomlin III | 14 | | 02:15.675 | Dallas, Texas |
| 31 | 87 | Doug Peterson | 8 | | 02:13.864 | Lake Orion, Mich. |
| 32 | 11 | Oliver Rowen | 3 | | 02:12.697 | San Francisco, CA |
| 33 | 45 | James Shaiman | 3 | 00:53.413 | 02:18.804 | Seattle, Wash. |
| 34 | 61 | Robert Noell | 17 | 01:00.304 | 02:14.962 | Raleigh, NC |
| 35 | | Jay Ricci | DNS | --- | --- | |