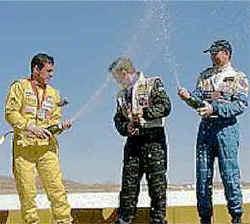 Driving in what has been described as near perfect conditions, 2001 Star Mazda Series West Division Rookie of the Year Moses Smith led flag to flag to capture Round Three of the Star Mazda Series West Division Championship at Willow Springs International Raceway. Matching the prime conditions, Smith extended his pole position winning streak enroute to claiming the series points lead.
"It was one of those rare, straightforward weekends in racing where everything is working just right. I was able to put the car on pole in the second qualifying session when conditions were better and once the green flag dropped was able to drive a clean race," Smith said of his triumphant weekend. "Ron Roland and his R-Sport team gave me a great car this weekend."
Coming off two third place finishes at Phoenix, Mike Anderson was also having a steady weekend in his HASA sponsored Mazda, posting the fastest time in the first qualifying session before falling back to third overall on the grid after the final session. Taking to the track in a brand new car Anderson was enthusiastic, "this car feels much more solid than my previous car, it is very predictable."
Despite starting third on the grid, Anderson was able to move into second place and challenge for the lead right from the start of the race by taking advantage of the starter's unorthodox green flag. Second place qualifier Jim Hall II explained, "Running as an SCCA National we had a split start, with the Atlantics and Formula Continentals getting the green flag before we did, so when we came out of turn nine the starter held the flag stationary. Moses and I were waiting for him to waive the flag and that allowed Mike to get the jump he needed to get the position."
Hall quickly recovered and took off in pursuit of Smith and Anderson, and at one point was hopeful of taking the lead when first Smith and then Anderson dropped wheels in turn one. "Moses got all four wheels off track but was somehow able to gather it up and keep Mike and I behind him, and when Mike dropped wheels I just didn't have enough to get past," Hall said.
While Smith, Anderson and Hall were moving cleanly through traffic, the series points leader entering the weekend, Ed Zabinski was struggling a bit in his first appearance at the "Fastest Road in The West" as the tires went away on his JZ Racing machine. "While I really loved this track, we were having a hard time getting the setup just right on the different tires they use at this track," Zabinski said. "Towards the end of the race I was fighting the tires and was getting caught in the corners by the lead Formula Continental while I was faster down the straights. On the penultimate lap he made a move in turn four for a non-existent gap, hit my rear tire and sent us both into the weeds. Before I could recover Bob Hatle and Taylor Fletcher had dropped me down to sixth place."
With the victory, Smith has moved out to an eight-point lead over Hall 123 to 115, with Anderson and Zabinki in hot pursuit with 114 and 110 points respectively. In the Masters Championship Bob Hatle, with 54 points, holds a four-point lead over Larry Couture while Chris Emanuel sits in third place with 42 points.
Round Four of the Star Mazda Series West Coast Championship takes place April 7th on the Fastest Oval in the West, Phoenix International Raceway. For more information about the Star Mazda Series West Division Championship, please log-on to the Star Mazda Series website at www.starmazda.com or contact series administrator Gary Rodrigues at (818) 686-3350.