July 19-21
Sears Point Raceway
Last Lap maneuver nets Jenkins victory at Sears Point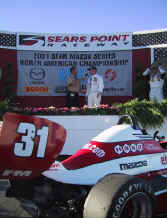 After more than a three-month hiatus, the Star Mazda Series North American Championship returned to racing with an impressive field of 45 drivers on hand to tackle the always-demanding 2.52-mile road course at Sears Point Raceway. The professional side of the Star Mazda Series, run in conjunction with Professional Sports Car Racing at American Le Mans Series weekends, left off at Sebring in March with Valley Motor Center's Chad Block recording his first "pro" win and World Speed's Scott Bradley leading the points.
Since then, the various regional Star Mazda Series have been active while drivers waited for the North American Championship to resume. With more than half the season left, the championship is definitely up for grabs, especially for drivers like Sears Point winner Scott Jenkins. "I guess I'm just having one of those incredible years," said the 19-year-old Team Bucknum Racing driver, whose race record to date includes seven wins and six poles in the West Division Star Mazda Series, as well as the 2001 Red Line Oil Oval Championship title (contested within the West Division schedule).

News of the big field of Star Mazda drivers spread throughout the Sears Point paddock, even attracting compliments from ALMS' Don Panoz, who stopped by the Star Mazda drivers meeting Saturday morning. "I just want to tell all of you how pleased I am to see so many of you participating in this great series," Panoz said. "Had I known this was going to be so terrific, I would have encouraged Gary (Rodrigues) to name it the Star Mazda Esperante Series!"
Heading all but one of the three official practice sessions, Jenkins qualified off-pole to start beside fast-time setter Oliver Rowen. Current points leader Bradley posted third-quick time with West Division
points leader Moses Smith in fourth. Rounding out the top five qualifiers was last year's Sears Point race winner Matt Beardsley.
Lined up to commence the two pace laps, the field stretched from start/finish nearly back to Turn 11. At the green, Rowen took the lead as the cars wound up the hill into Turn Two, where everyone making it through except for 11th-place qualifier Michael Stephens, who tangled with Robert
Niles. The race continued and so did Niles, but Racers Edge Motorsports' Stephens was done for the day.

On lap three, however, J.R. Osborne went off course and ended up in the tires in Turn Eight, forcing officials to call for a full-course yellow. Looking over the field, Beardsley was up to third, but under the
yellow, headed for the pits with a flat left-front tire. Five laps later, the green was out again with Rowen heading Jenkins, Smith, Bradley and Block. Also moving up was Marc De Vellis, who'd come from 16th on the grid to run sixth.

The race didn't stay green for long as Niles was collected by Dan Weyland, who lost control in the Carousel. Fortunately, Niles was OK, but ended up in the tire wall and needed assistance. Weyland continued, minus a front wing. Just two laps later, however, racing resumed on lap 12, but it was short-lived as a full-course yellow was needed to clean up after Marek Rybkowski went into and dislodged the tires at Turn 10. Luckily, the Denver police officer was OK, and he managed to drive his crippled Eurosports Racing car to "Gilligan's Island" while crews cleared the racing surface. Beardsley also headed into the pits, this time for good, with a jammed shifting mechanism.

With six laps remaining, the green came out again with Rowen still holding off Jenkins' advances. The pair ran nose-to-tail as the white flag was shown for the last lap. When the pair emerged from behind the Turn 10 wall, everyone in the pit lane watched as Jenkins looked inside Turn 11 for Rowen to leave a hole. "I thought that would be the best turn," Jenkins said. "I knew I could go in deeper and when he got a little loose under braking and tried to protect the inside line, I had good momentum and just
got going."

Out of Turn 11, the pair were side-by-side, although Jenkins looked to have the edge and cleared Rowen as they headed to the finish. "I didn't think it was as close as it was," said Rowen, who did set the race's fast lap while holding off Jenkins on lap 18. "I didn't want to protect the inside line so much that I couldn't get out of the turn, but it didn't work."

Crossing the line in third was Smith, who posted his first podium finish for the new SierraSierra Enterprises Star Mazda team, comprised of Smith and teammate Frank Bain. "I was hoping to run with Rowen and Jenkins, but Scott (Bradley) kept me busy," Smith said. "He was quick in 11 and I
was faster in Seven, so in the end we were pretty even all over the track." Bradley, who holds onto his points lead as the series heads to Portland (Aug. 4), was hoping for some more racing laps. "I think a few more green laps would have helped," Bradley said. "When those cautions came out the car was just getting good."

Rounding out the top five was De Vellis, whose privateer team struggled all weekend with a down-on-power motor. "We finally got the chassis hooked up and more consistent power," said the 18-year-old Canadian. "The race was great. All my passes were clean and the guys gave me lots of running room so we're really pleased, especially because we worked so hard for this one."

Other notable drives were turned in by JZ Racing's Tom Woods, who started 44th, but finished 11th after a post-qualifying mechanical infraction erased his third-fast time. Valley Motor Center's J.J. Fisher left the track Thursday not feeling well and later checked himself into a local hospital with pneumonia. Once released and pumped with fluids, the Tyler, Texas, driver returned for Saturday's race, where he started last and finished an impressive 14th. Adding to the international flavor of the
series, Luis Schiavo, of Caracas, Venezuela, finished 10th after posting eighth-fast qualifying time. Also joining the Star Mazda contingent, was Trans-Am driver Tomy Drissi, who rented one of Jennings Motorsports' spare cars for some extra seat time during practice and qualifying. He enjoyed the car so much, he decided to race, even after a grueling Trans-Am event earlier in the day.

The Speedvision telecast of the Sebring race, featuring commentator Greg Creamer and pit reporter Calvin Fish, will be shown Monday, Aug. 20, at 8 p.m. and 12 a.m. on Aug. 21, Eastern time, and during prime time on the West Coast (5 p.m. and 9 p.m.). Please check your local listings to
confirm the dates, airtimes and any repeat broadcasts.

The next race is Aug. 4, at Portland International Raceway, in conjunction with the ALMS slate of races. For more information about the Star Mazda Series North American Championship, please log on to the Star Mazda Series website at www.starmazda.com or contact series administrator
Gary Rodrigues at (818) 909-5319.--Jane Anderson


TIME OF RACE: 45m53.086s
MARGIN OF VICTORY: 0.239sec
RACE AVERAGE SPEED: 72.495mph
FASTEST RACE LAP: Rowen, 1:35.940 (94.560mph)
LAP LEADERS: Rowen 1-21; Jenkins 22


Event:
Sears Point 2001
Run:
Saturday Race
Date:
7/21/2001
Time:
4:30:00 PM
Pos.
No.
Name
Laps
Diff. Time
Best Laptime
Hometown
1
31
Scott Jenkins
22
-- 22 laps --
01:36.044
Portland, Ore.
2
11
Oliver Rowen
22
0.239
01:35.940
San Francisco, Calif.
3
76
Moses Smith
22
4.348
01:36.637
Chandler, Ariz.
4
14
Scott Bradley
22
4.667
01:36.607
Redwood City, Calif.
5
67
Marc

De Vellis
22
5.19
01:36.500
Burnaby, B.C.
6
32
Chad

Block
22
6.642
01:36.847
York, Pa.
7
82
Guy Cosmo
22
9.187
01:37.140
Long Island, NY
8
77
Scott Kusy
22
11.532
01:37.619
Scottsdale, Ariz.
9
10
Chris McMurry
22
11.908
01:37.368
Phoenix, Ariz.
10
81
Luis Schiavo
22
13.41
01:37.795
Caracas, Ven.
11
96
Tom Woods
22
13.502
01:37.197
Discovery Bay, Calif.
12
37
Bob Negron
22
18.043
01:38.343
San Jose, Calif.
13
97
Ed Zabinski
22
19.794
01:37.584
Monterey, Calif.
14
22
J.J. Fischer
22
20.21
01:37.885
Tyler, Texas
15
71
Mike Choquette
22
27.696
01:38.186
Santa Barbara, Calif.
16
56
Dan

Tomlin III
22
34.334
01:39.540
Dallas, Texas
17
48
Mike

Anderson
22
35.574
01:40.219
Anza, Calif.
18
78
Brad

Drew
22
36.519
01:39.763
Everett, Wash.
19
65
Rob Walker
22
37.116
01:39.798
Portland, Ore.
20
55
Tom Sporney
22
37.599
01:39.811
Parker, Colo.
21
59
Bryan Willman
22
37.85
01:39.693
Kirkland, Wash.
22
69
Aaron Ogus
22
39.025
01:39.453
Toronto, Ont.
23
17
Rick Waddell
22
41.822
01:40.569
Edmonds, Wash.
24
35
Tom Mabey
22
43.287
01:40.392
Bountiful, Utah
25
23
Tom Nastasi
22
48.336
01:38.258
Stamford, Conn.
26
87
Doug Peterson
22
48.883
01:37.132
Lake Orion, Mich.
27
33
Dick Downs
22
49.072
01:40.575
St. James, Minn.
28
34
Gary Hutto
22
51.91
01:41.037
Villa Park, Calif.
29
38
Tomy Drissi
22
52.78
01:40.899
Los Angeles, Calif.,
30
24
Jon Brownson
22
59.536
01:41.359
Breckenridge, Colo.
31
16
Frank McCormick
22
01:03.9
01:41.750
San Francisco, Calif.
32
90
Bob Crossley
22
01:05.0
01:42.045
Tillamook, Ore.
33
88
Dan Weyland
22
01:05.6
01:40.177
Denver, Colo.
34
30
Glenn Bjorkman
22
01:15.4
01:41.470
Goletta, Calif.
35
58
Dan Tomlin Jr.
22
01:15.7
01:43.754
Dallas, Texas
36
60
Phil Fogg Jr.
22
01:16.0
01:37.689
Wilsonville, Ore.
37
99
Frank Bain
22
01:44.6
01:41.379
San Diego, Calif.
38
29
Marc Cota-Robles
20
-- 2 laps --
01:37.387
Santa Ana, Calif.
39
70
Tim Jennings
19
-- 3 laps --
01:37.567
Downers Grove, Ill.
40
84
Marek Rybkowski
12
-- 10 laps --
01:42.168
Denver, Colo.
41
12
Matt Beardsley
11
-- 11 laps --
01:37.937
Breckenridge, Colo.
42
98
Rob Niles
7
-- 15 laps --
01:39.725
Simi Valley, Calif.
43
13
J.R. Osborne
2
-- 20 laps --
01:39.746
Castle Rock, Colo.
44
80
Mike Stephens
0
-- 22 laps --
--:--:--.---
Sarasota, Fla.
45
28
Pierre Ehret
22
DQ
01:37.553
Santa Rosa, Calif.

TOP 10 NORTH AMERICAN CHAMPIONSHIP POINT STANDINGS
(After 3 of 9 rounds):
1. Scott Bradley, 118; 2. Chad Block, 111; 3. Guy Cosmo, 98; 4. Oliver
Rowen, 85; 5. Scott Jenkins, 81; 6. Marc De Vellis, 81; 7. Matt Beardsley,
77; 8. Scott Kusy, 75; 9. Marc Cota-Robles, 70; 10. Ed Zabinski, 69.

TOP 5 NORTH AMERICAN CHAMPIONSHIP MASTERS SERIES* POINT STANDINGS
(After 3 of 9 rounds):
1. Scott Kusy, 52; 2. Doug Peterson, 40; 3. Dick Downs, 39;
4. Dan Weyland, 35 5. Rick Waddell, 33. *For drivers 45 years of age and
older.

TOP 10 WEST DIVISION POINT STANDINGS
(After 9 of 13 rounds):
1. Moses Smith, 372; 2. Jim Hall II, 316; 3. Scott Jenkins, 314; 4. Scott Kusy, 284;
5. Bob Hatle, 279; 6. Bob Negron, 273; 7. Chris Emanuel & Larry Couture,
195; 9. Pierre Ehret, 171; 10. Chad Block, 108.

TOP 5 WEST DIVISION MASTERS SERIES* POINT STANDINGS
(After 9 of 13 rounds):
1. Scott Kusy, 154; 2. Bob Negron, 140; 3. Bob Hatle, 134; 4. Chris
Emanuel, 88; 5. Ron Island, 28. *For drivers 45 years of age and older.